Hi! I'm Mahnoor 👋
I'm a B2B SaaS and marketing writer with 8+ years of experience.
I've worked with clients from all over the world, and I absolutely love delighting them (and their readers) with helpful, engaging, and value-packed content!

Here are some quick (not work-related) facts about me:
🏝 I'm currently based in Antalya, Turkey. I love the beaches and sunny weather ❤️
✈️ I love traveling with my husband and experiencing unique food and cultures. Some of our most memorable trips have been to the Maldives, Malaysia, Indonesia, and Turkey!
🤱🏻I'm a new mom. My baby girl is the love of my life! I haven't written for parenting blogs before, but I would love to give it a try. Got a project in mind? Drop me a message!
Now, let's get to the "work" part.

I've helped dozens of clients rank on top of the SERPs for their target keywords.
Want to see some examples? 👇
Impressed? I'd love to help you do the same!
My clients adore working with me. In fact, most of them want to continue working with me for years! I have a 100% success rate and constantly get flattering reviews about my work.
If you want to learn more about what goes on in my head, follow me on Twitter.
I'm often tweeting about content marketing, SEO, freelancing, food, cats, and random thoughts!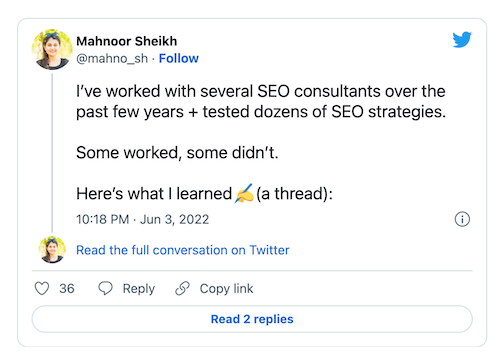 By the way, have you checked out my portfolio yet? Don't forget to take a peek!
If you're interested in working with me, I'd love to grab a virtual coffee with you and talk business. Just get in touch and let me know what you have in mind!